LINDA JEFFERYES
MAKEUP ARTIST
Recognised globally as one of the world's best makeup artists Linda Jefferyes is constantly in demand within the spheres of fashion, beauty, editorial and advertising in media spanning photography, film, tv and digital.
She describes her approach as a search for that perfect meeting point between fact and fiction with generous dashes of fun and fantasy.
See more about Linda, and lots of current and archived work at the website of her agency ARTIST GROUP.
You can contact Jo at the Artist Group on our contact page.
WORKS WITH THE BEST
Her multitude of covers, editorial and advertising spreads and broadcasts appear worldwide with clients including Vogue, Harper's Bazaar, Marie Claire, Elle Magazine, Zimmerman, Romance Was Born,  Camilla, KitX, Ellery, Ginger & Smart, Alice McCall, Collette Dinnigan, Carla Zampatti, Camilla and Marc, Jac + Jack, Bassike, Paspaley, Harrolds, Bianca Spender, Kennedy Jewellery, Karen Walker,  Michael Azzollini,  StyleMeRomy, Lee Matthews, Alex Perry, Scanlan Theodore, Viktoria & Woods, Country Road, Witchery, Oroton, Opera Australia, The Australian Ballet.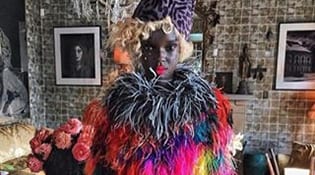 Linda creates and finesses the stunning looks of celebrities including Margot Robbie, Milly Bobbie Brown, Kylie Minogue, Danni Minogue, Mia Wasikowska, Cate Blanchett, Susan Sarandon, Liz Hurley, Elle Macpherson, Rose Byrne, Hugh Jackman, Russell Crowe, Mel Gibson, Tina Arena, Nicole Richie, Teresa Palmer, Miranda Kerr, Georgia May Jagger, Lara Worthington, Isabel Lucas, Sarah Snook, Jessica Gomes, Delta Goodrem, Jessica Mauboy, Natalie Imbruglia, Natalie Bassingthwaighte, Magda Szubanski, Aerin Lauder, Jessica Marais, Samara Weaving, Yael Stone, Jesinta Franklin, Georgia Fowler, Gemme Ward, Nicole Trunfio, Astrid Berges-Frisbey, Olivia Palermo.
INSPIRED TO TRANSFORM
Drawing inspiration from the worlds of fine art, music and pop culture Linda applies her unique sensibilities to all her work with an artist's eye and the skilled hands of the seasoned artisan.
Linda also manages teams of professionals to beautify the legions of models that walk the most prized catwalks. Her makeup expertise targets the perfect blend of classic beauty and eye-catching transformation.
"It's not about just creating a pretty face. Universally we are drawn to clarity, symmetry and what we could call a magnetic glow, but don't be afraid to be creative with your look – have a point of difference"
"Beauty inside and out – that is my mantra. I look for the force of light that comes from every individual face – a holistic approach with an art aesthetic"