There are some jobs that stand out. This was one of them – a Harper's Bazaar cover story branded "Ocean Odyssey" featuring top Australian models Alexandra Agoston, Charlee Fraser, Gemma Ward, Georgia Fowler and Victoria Lee.

The Ocean Odyssey cover story for Harper's Bazaar was about conservation and sustainability, with five of Australia's most iconic models.
When Naomi (Fashion Director Naomi Smith) first ran the idea by me, and told me who the five girls were, I thought – this will be an amazing shoot – but how was I going to give them all equal attention? (-: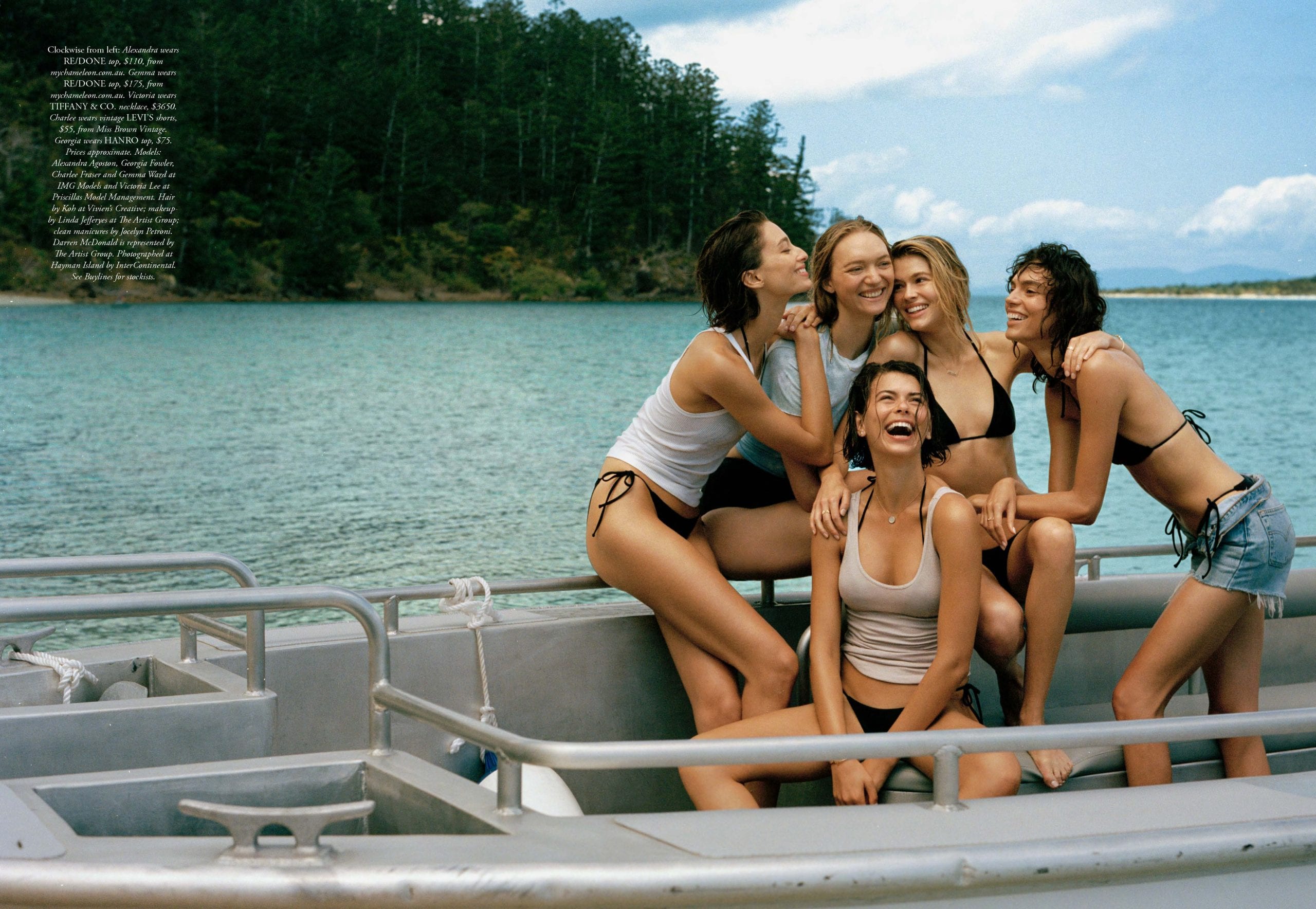 Luckily I'd worked with all of them before – actually most of them I'd known since they had started modelling. It's really amazing to have watched these girls grow up over the years.
From their first shoots, their going overseas to work, babies, boyfriends, marriage and seeing how they developed into women, they became friends and you genuinely really care about their wellbeing.
I arrived at the airport to catch our flight to Hamilton Island, then a ferry to Hayman Island. It was a Sunday morning so I thought it would be a breeze to check in and then lounge at the Lorna Jane Nourish cafe – it's my secret spot at the airport to chill out, a real gem, tucked away near gate 33 at the back of the Lorna Jane shop. Big comfy chairs and great food.
Well – the airport was chaos, queues of people lining up just to get to the bag tagging machine. It was the end of school holidays.
Eventually we got through and were on the plane heading to Hamilton Island.



We had a very pleasant journey on the Intercontinental Hayman Island ferry from Hamilton to Hayman. A big luxurious cruiser where our champagne glasses were constantly being filled. We arrived feeling very relaxed.
It was like a set for a James Bond movie – crystal blue waters lapping the whitest of sand – lush vegetation and palm trees dotted around the resort. This was going to be the office for the next few days.
Naomi and photographer Darren Macdonald met us all. We were all excited to be part of this iconic shoot, working in this incredible location and staying in the luxurious resort – The InterContinental Hayman Island.
We settled into our rooms and set up the hair and makeup station in my room. My room was huge and overlooked the massive pool framed by views of the ocean.
This job required a big crew of people – the Harper's Bazaar team worked like demons to make it all happen – so much organising goes on behind the scenes.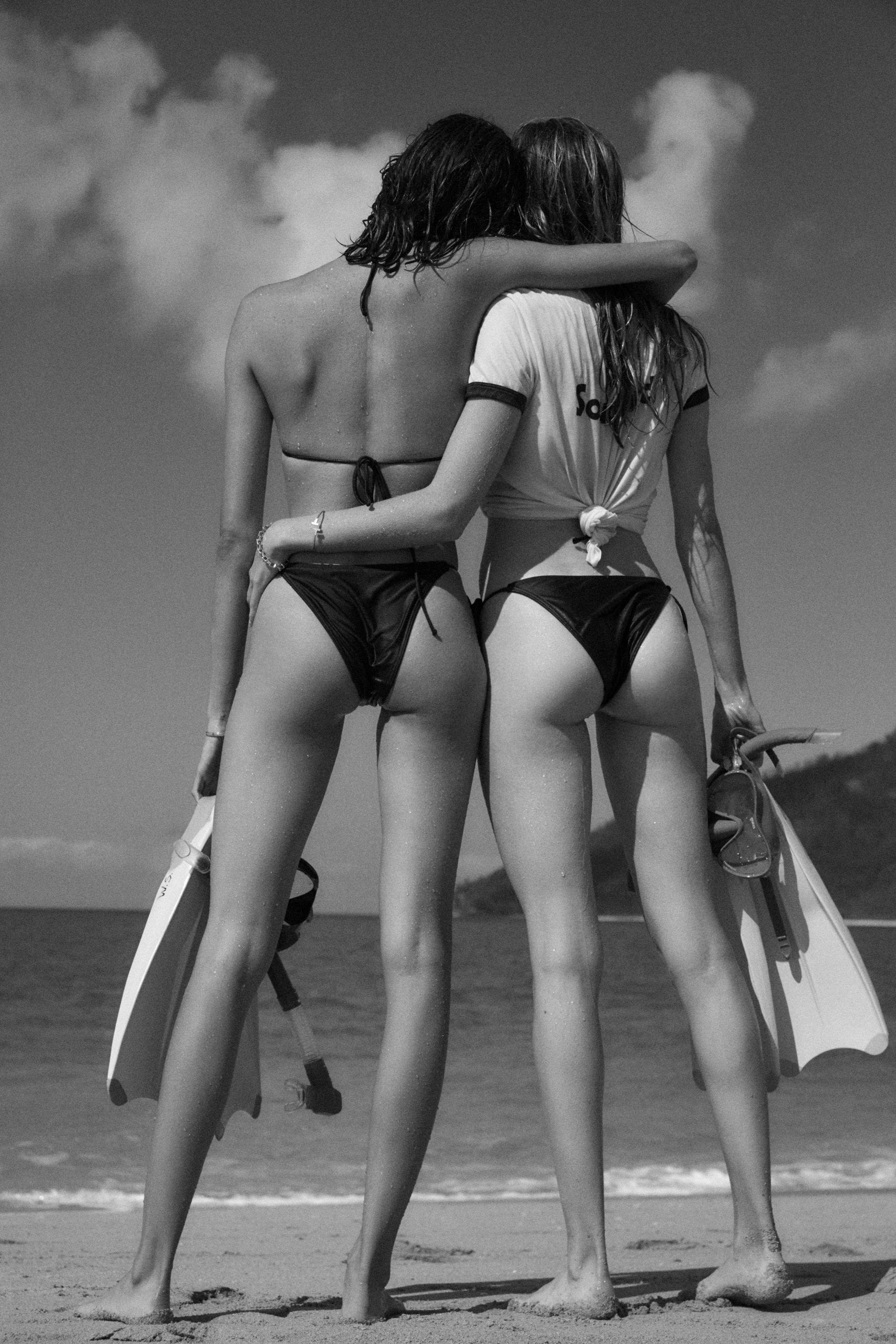 The Harper's Bazaar girls consisted of Carolyn Tran, Fashion Editor and on the ground Producer; Samantha Wong, 1st assistant; and Holly Gibson, 2nd assistant. These girls did not stop. When everyone else is resting these girls are still working.
Koh was the hairdresser, a fabulous hairdresser with a very relaxed vibe, perfect for this shoot. My assistant Jasmine Abdallaoui was also part of the crew and Koh had his assistant Lachlan Wignall – we needed all the help we could get!
On a three day shoot the first day is always the hardest. It's when you find the story, how to work with each other, and by the end of that day you know what is working and what is not.



Everyone is always a bit on edge especially hair and makeup. It's probably because we're the first cab off the rank – and there's never enough time.
It's usually early in the morning and your brain isn't always firing as fast as you'd like. You might think that you've done a fabulous job on that hair and makeup but really, it's not until it's there in front of that camera and the light has been determined that you really know.
You must always be prepared to change that amazing makeup you think you've done – don't get comfortable – get wiping, changing as necessary, do what you have to do, so it looks great on that computer screen.
In saying all of that, the hair and makeup brief for this story was very relaxed and natural.

The girls needed to look like they'd been living on Hayman Island for the last few weeks doing nothing but swimming, eating fresh food and relaxing.
That is, not looking like they'd jetted in on a 24 hour flight from New York after working non-stop for over a month which was basically the reality for the majority.
Just when you think you're on top of it, I hear Naomi saying, "Linda I want them golden"… OK – dig deep into that makeup kit and please tell me what I have will work.
Thank the heavens for JAMES READ tanning products. James' products are incredible, specially formulated with his tantone technology, there's no bad orange colour, no streakiness and it's so easy to apply.
He also has so many different products from self-tanners and gradual tanners to products that enhance your tan. There's literally a product for everyone and for every occasion. He also does face tanners really well, which is so hard to do.
I was lucky enough to work with James many years ago when he came to Australia to launch his products at Mecca. We did a photo shoot so I got to see all his products at work. Now I don't leave home without at least one of his products in my makeup kit.



Not all the girls needed help from James Read, some of the girls have that natural olive skin tone and go brown very easily. But when you've spent the last six months in NYC wearing a puffer jacket scarf and beanie, your skin can be slightly sensitive to the harsh Aussie sun.
But even if you have the darker skin and you think you don't burn because usually you don't, I still suggest you still use a sunscreen. This will help your skin to slowly get used to the sun. Australian sunscreens are the best.
One of my very favourite is the Cancer Council sunscreen – it's in the orange and yellow container. It's light, it's not white on your skin and is really great under makeup – best of all it works.
The first day was tricky – we were out in the sun for long periods of time and the girls were enjoying that feeling of the warm sun on their fine winter skin.

I was gently encouraging them to cover up when they could. Sunburn is sneaky, it's a slow cooker. You don't realise how cooked you really are till that sun goes down and the full extent of the burn is revealed.
From early morning to lunchtime we travelled around visiting different islands which were incredibly beautiful. Then lunch followed by a regroup for that afternoon magic hour.
We finished our first day sun kissed and exhausted – it had been a big day, but a great day with so much achieved.
Our Ocean Odyssey was coming to life. The next two days were spent zipping around on boats shooting while enjoying the calming ultramarine waters of the Whitsundays.
Breathtakingly beautiful and right on our door stop here in Australia, I vowed I'd be back next time with my family.
I'm so grateful for the opportunity to visit this special island in the middle of the ocean.



THE GIRLS
Gemma, Georgia, Alexandra, Charlee, Victoria

I'm really not sure if the girls all knew each other before hand, You just take it for granted that they do. But I'm sure they knew of each other.
When you spend three days in close proximity to one another you soon get to know each other.
All five girls were individuals all with they very own look and style. Strong women with opinions and life experience. Models usually start their working life when they are very young, and they are thrown into a working environment that is very demanding.

Very early call times and late finishes often working with eccentric adults who aren't always nice. They travel around the world most of the time by themselves only staying in a place long enough to get to know the name of the suburb that there in.
Usually they is a worldliness that most of us could only dream of. So to watch and listen to these five intelligent women sit down in the evening and talk about everything from politics, environmental and social issues to the latest films was really an end of the day delight.
It was also beautiful to watch them care for each other as they began to get to know each other more.
What was so great about how Darren was shooting this editorial was that he was shooting everything on film. When I first started out, everyone shot on film, so I knew that you don't get to see much on the day. Shooting on digital is very different for makeup as we get to really check out how it all looks as we go – which is important as digital sometimes seems to pick up more detail than what your eye sees naturally!
We had two boats – the photographic team, models and Naomi in one, and in the other, the styling team with all the clothes and hair and makeup and our assistants.
Darren's plan was to shoot the girls as they were travelling so he could get some natural candid shots. I suppose that's what makes this story so special – a lot of these shots are when the girls are just hanging out – that's why they look so relaxed. This shot of Alex and Georgia was taken after we had arrived on the first little island.



I love shooting covers, I like the intensity and detail that goes into getting a good cover.
The cover was shot at Whitehaven beach about an hour by boat from Hayman Island.
We got all the girls ready before leaving for Whitehaven, I knew I needed to make the makeup slightly heavier as it needed to last the journey plus there was nowhere to fix them once we arrived on Whitehaven.
Darren had planned to get that last light of the day better known as the magic hour in the photographic world. We would be getting them straight off the boat into their outfits, then a quick makeup fix while Darren found the shot.
When working in these conditions I find the best way to work is on set. While the photographer is shooting and finding the feel, I keep going in and perfecting the girls.
Naomi did a few different changes and as the time passed the girls started looking better and better. Whitehaven was magic – amongst the whitest sand and cleanest waters I've ever seen! This was certainly a unique place. As the sun set we packed up and headed back to the boat all sunkissed and ready for a beer.

THE PRODUCTS
Sunblocks
Cancer Council Everyday Sunscreen SPF 30 – I like this sunscreen under makeup because it has no white residue.
Ultra Violette Queen Screen SPF 50+ Luminising Sun Serum – A really lovely sunscreen very light on your skin more like a serum but with an SPF of 50+
Body oil
Reef Oil 30+ Coconut Oil – I use this oil when I know that I need the skin shinny but I also need to protect the skin from the sun.
Tanning
For the girls who needed a little extra help to get that summer glow, James Read Tan available from Mecca Cosmetica. James has a product for every situation, and if you need help working out the product for you, the Mecca staff are experts.
Foundation
Mac Cosmetics Face and Body – still one of the best foundations great on the body and a very light coverage for the face. Also has the best colours.
Tom Ford Traceless Foundation SPF 15 – lightweight and luminous, very easy to build up or down depending on what you need. Love that it has an SPF 15 – essential in Australia.
Face bronzer
Chanel Soleil tan de Chanel – A cult classic has a flawless result never streaky adds the perfect warmth to your face.
Eyes
Chanel Ombre Premiere 840 PATINE BRONZE – A subtle cream texture shadow that blends into your eyelids adding a satin luminous finish.
Lips
Linda Jefferyes® LIQLIPS™ Matte Liquid Lipstick Warm Tan 129 – Long Lasting, Ultra High Pigmentation, enriched with Moisturising Coconut Oil & Anti-ageing Vitamin E, the lipstick is designed to stay on and stay comfortable. The fact that it's virtually waterproof was a big bonus for this shoot! Mix this with a little lip balm like Welleco lip balm for a natural toned look.